Celebrating three years of success: Saasz Solutions continues to expand and innovate
As Saasz Solutions celebrates its three-year milestone, the company is proud to reflect on its achievements and growth. Over the past year, Saasz Solutions has experienced an impressive double-digit increase in business compared to the previous fiscal year. With a strong foundation and an ambitious outlook, the company aims to sustain its growth trajectory, with substantial expansion plans for the upcoming year.
Operating primarily in the Middle East and Africa, Saasz Solutions has established itself as a leading provider of cutting-edge solutions, representing renowned brands such as Comograv CNC Machines, Fuji Film UV Industrial Roll to Roll & Flat Bed Printers, HP Latex Production, Rigid & Industrial Printers and Nablean ERP Solutions.
Expansion and Diversification
One of Saasz Solutions' major milestones during the past year was the addition of new products, allowing the company to cater to a wider range of industries, particularly in the manufacturing sector. By expanding its product portfolio, Saasz Solutions demonstrated its commitment to meeting the diverse needs of its clientele. This strategic move has not only contributed to the company's growth but has also solidified its position as a reliable provider of comprehensive solutions.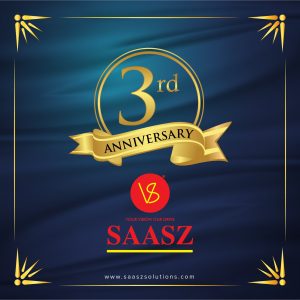 Moreover, Saasz Solutions successfully opened business operations in Bahrain, further expanding its presence in the region. This new venture has allowed the company to forge stronger connections with local partners and clients, reinforcing its commitment to providing exceptional service and support.
As part of its ongoing commitment to customer satisfaction, Saasz Solutions has expanded its offerings beyond product representation. The company now provides customer ERP solutions and custom software solutions aimed at enhancing production and improving overall business operations. By leveraging their technical expertise, Saasz Solutions has been able to support its customers with innovative technology, empowering them to achieve greater productivity and business growth.
P Viswanathan (Visu), Managing Director at Saasz Solutions, said, "We have to extend heartfelt gratitude to our customers who have trusted us to deliver the best solution for their needs. We are thankful to our vendors and ecosystem partners to help us to deliver on these promises. We look forward to adding new solutions and widening our solutions to enhance the customer experience."
Future Outlook
Looking ahead, Saasz Solutions is determined to maintain its upward trajectory. The company's ambitious goal for the upcoming year is to establish operations in Saudi Arabia and Africa. By extending its footprint, Saasz Solutions aims to serve an even broader customer base, solidifying its position as a trusted partner in the region.
Furthermore, Saasz Solutions remains dedicated to collaborating with its partners to reach out to customers, leveraging its technical expertise to offer exceptional support. By staying at the forefront of technological advancements, the company ensures that its customers have access to the latest innovations, enabling them to remain competitive in their respective industries.
As Saasz Solutions celebrates three years of success, it is evident that the company's commitment to growth, diversification, and customer satisfaction has been instrumental in its achievements. With a strong foundation and an ambitious vision, Saasz Solutions continues to expand its operations, represent renowned brands, and offer comprehensive solutions to its clients. As the company looks forward to opening new local operations and supporting customers with advanced technology, it remains poised for continued success in the coming years.