COMAGRAV ECO represents great value for money
COMAGRAV ECO is our basic CNC router for cutting and milling operations.
It is ideal for cutting plastic, aluminum, acrylic, wood, composite panels, MDF, plywood and similar materials.
Parameters
| | |
| --- | --- |
| Working size | 1500×2500 mm |
| Frame | Prefabricated steel structure with crossbars |
| Working table | Vacuum with high pressure pump (2,4kW Becker with footswitch) or T-slots for fixture with clamps |
| Drivers | Stepper motors (microstep) in all axes, rack and pinion + planetary gears for XY, ballscrew for the Z axis |
| Spindle power | Professional electrospindle with an output of 2 kW |
| Maximum spindle speed | 24.000 RPM |
| Maximum speed | 100 mm/s |
| Maximum material height | 110 mm |
| Resolution | 0,0068720 mm |
| Weight | 400 kg T-slot, 540 kg Vacuum table |
| Collets | 6mm collet (ER20), wrenches for tightening |
| Z sensor | Z sensor for tool automatic tool lenght measuring |
| Control software | PILOT |
| Tool change | Manual |
| Camera system | Compatible with RIPs (option) |
| Control PC | DELL Corei3 (option) |
| Vacuum pump | Becker 2.4 kW high pressure (option) |
| OS | Windows 7/8/10 |
Options
Control panel with DELL PC and Windows 10 IoT Enterprise
Camera system
Dust collector
Spray cooling system for aluminum cutting
Vacuum pump Becker 2.4 kW high pressure
COMAGRAV ECO is CNC router great for
• plastic fabrication
• signmakers
• aluminium processing
• woodworking
• composites
Mechanical design
The design of machine is characterized by prefabricated steel with crossbars. The structure is very clever – less vibrations and more material saving – thus environmental and economical friendly.
COMAGRAV ECO is driven by stepping motors (in microstep mode) in all axes. For correct motion control are installed racks and pinions. For ensuring accuracy with smooth axial movement are used planetary gearboxes in X and Y axis – which is not so usual in this price range.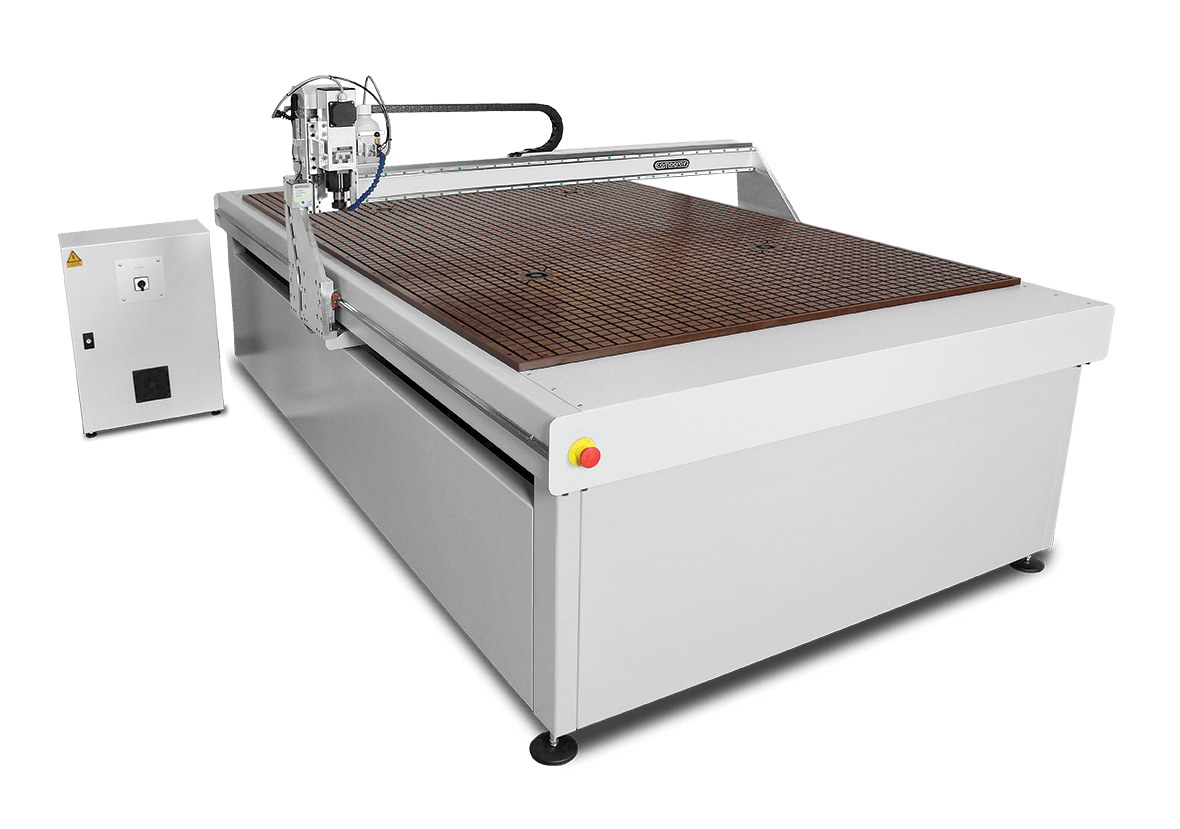 You can choose from two worktable solutions
T-slot aluminium worktable for manual fixing
The work table is made of precise aluminum profiles and allows clamping in T-slots.
High pressure vacuum worktable for automatic fixing
Solid worktable made of phenolic resin together with powerful Becker pump (2,4kW) is perfect and well-proven solution.
The machine is equipped with safety elements for emergency stop of the machine.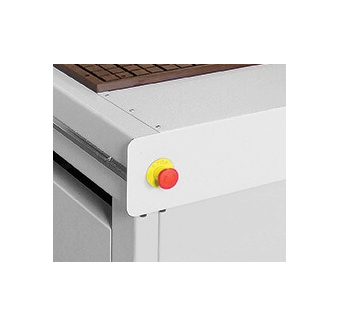 For milling is the CNC router equiped with professional spindle.
Its 2kW power is well balanced with machine design and power of vacuum. Maximum speed is 24000 RPM. Thanks to double ceramic bearings, hardened shaft, balancing and forced cooling, the spindle can run in maximum speed for the full shift.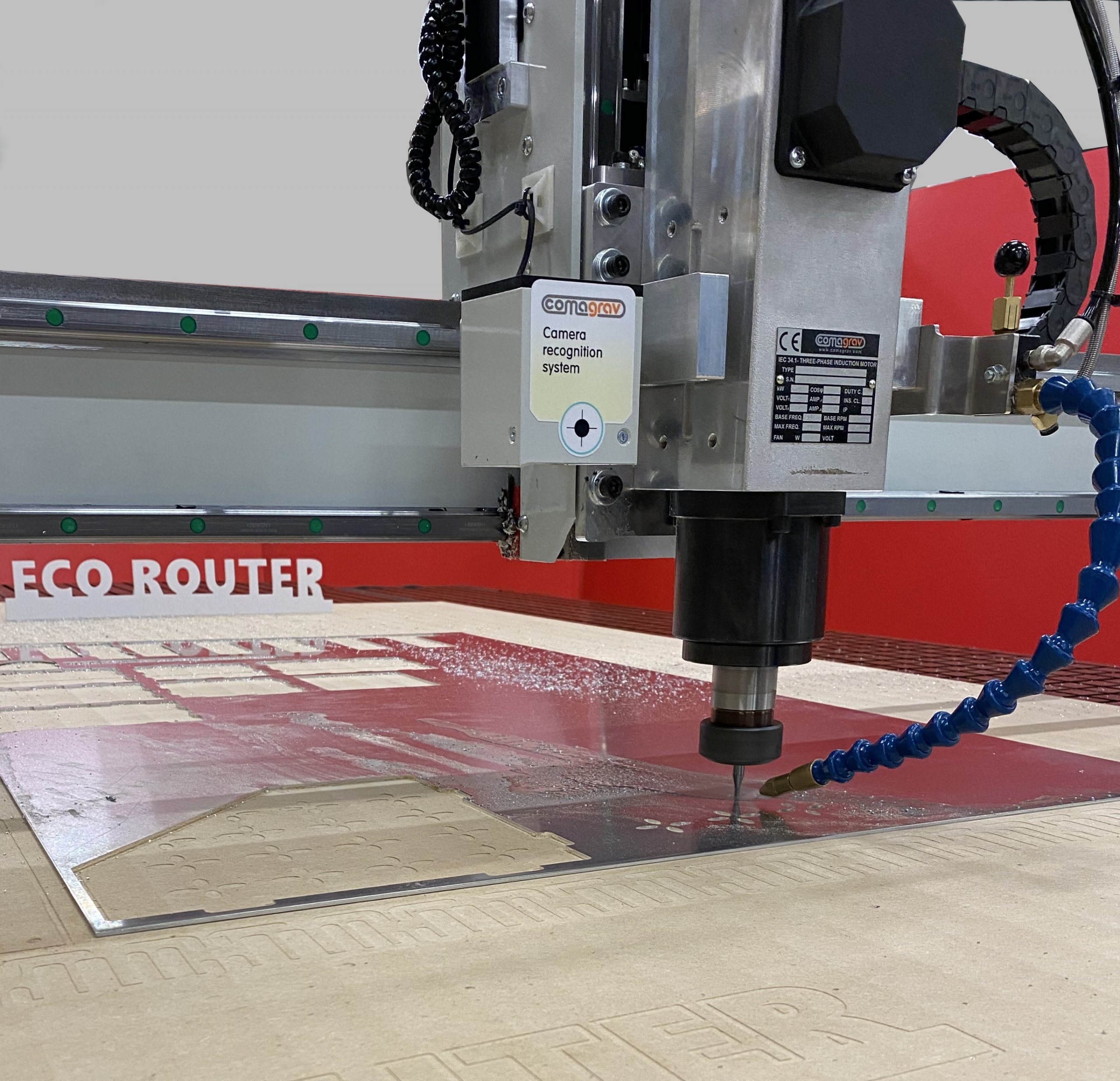 The automatic Z sensor for measuring of tool length is standard for COMAGRAV ECO.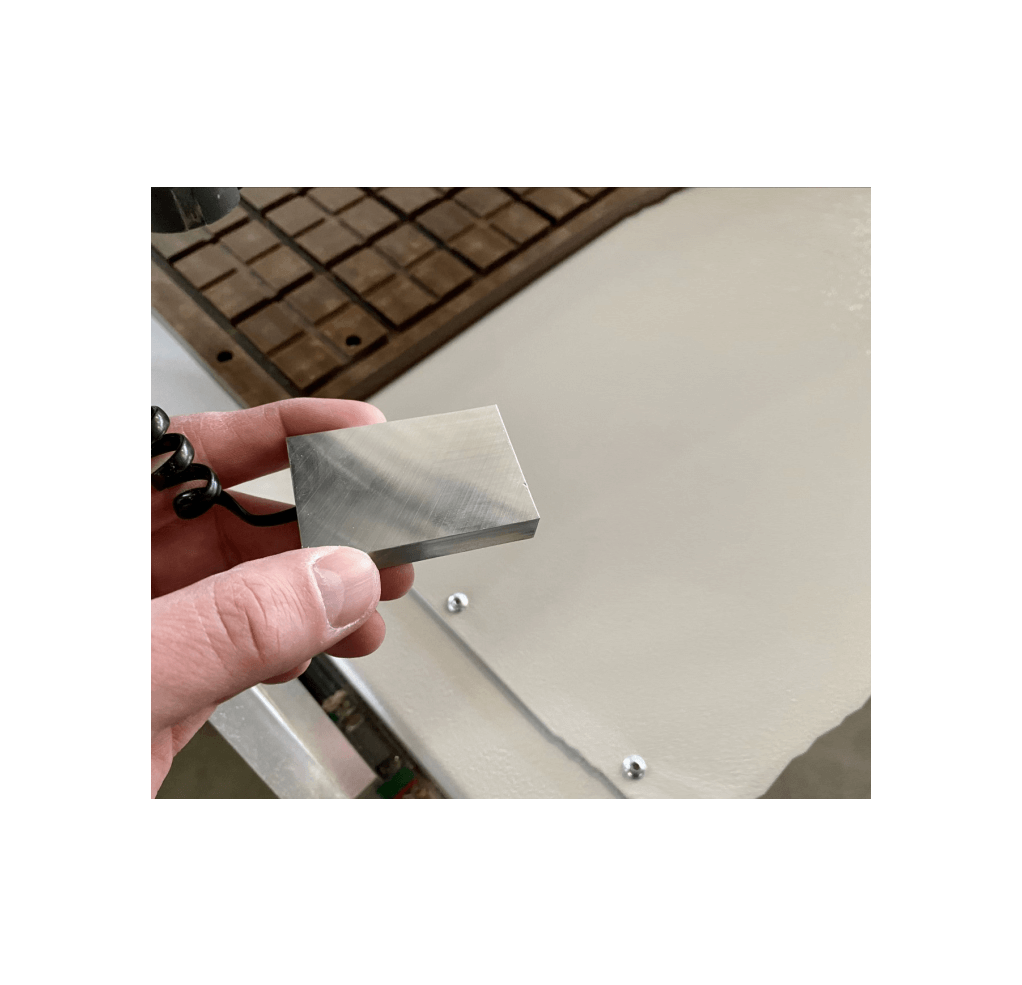 Material processed by COMAGRAV ECO